Rafael Nadal
rewrote more records on Sunday than
Nick Hornby
has scripted movie plots.
The Spaniard might not consider the straight-set victory over
Novak Djokovic
, arch-rival and chief antagonist between the chalked lines, his sweetest, but it is definitely his most significant. Not for the fact that it gave him his 13th
Coupe des Mousquetaires
or a century of wins at Roland Garros or even that the title helped him draw level with
Roger Federer
's Grand Slam haul, but for the manner in which he authored the triumph.
Heavy topspin combined with strategic underspin. High balls that kicked and climbed, and others that stayed low and died. Nadal's point-construction was beautifully articulated prose. He backed it all up with a focus that was supreme for two sets and a half.
Critics had written off Nadal ahead of the final, at their own peril perforce, but what he came up with in the title match was extraordinary — tactical brilliance that left the world No. 1 in no-man's land.
The production came on the back of a less-than-adequate build-up to the fortnight.
Rafael Nadal's thirteen victories at the French Open. (AFP Photo)
The Championship, moved from its original spring dates to the late-September-early-October weeks that arrived with a warning of winter, didn't suit the Spaniard, nor did the heavier Wilson balls. Djokovic had embraced both of those novelties. The Serb came into the final having not been beaten on the court in 2020. Nadal, in his only tournament after a six-month hiatus, lost to Argentine Diego Schwartzman for the first time in ten meetings, in Rome.
Djokovic has enjoyed a stranglehold of sorts on Nadal in recent years, winning seven of their last ten meetings, including their previous encounter in a Grand Slam final last year in Melbourne. But he was stunned by the level of his opponent's play.
The Serb said: "He did surprise me with the way he was playing, the quality of tennis he was producing. He played a perfect match, especially in the first two sets."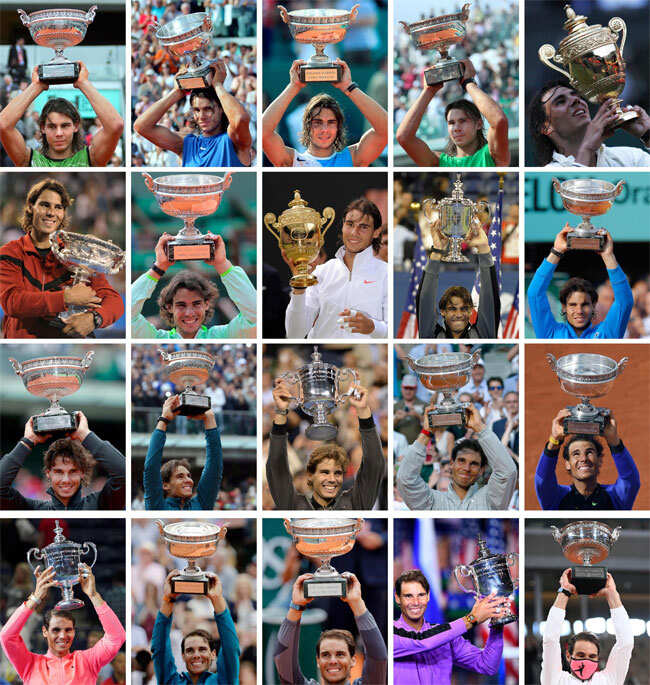 Rafael Nadal's twenty Grand Slam victories. (AFP Photo)
Between winning the title in Acapulco in February and the final on Sunday, Nadal clocked just nine matches. Not ideal for one who feeds off competition.
"I played at my highest level when I needed to play at my highest level," he said. "The personal satisfaction is big because even if I played an amazing match, the conditions are not what I will choose to play an event like this."
The key to what transpired on the coral-hued surface which carried more than a hint of moisture lay in the 13-time champion's attitude in the lead-up. "I was positive in every circumstance that I was facing during the whole event," he said. "I was trying to accept all the challenges. Sometimes, the feeling on the ball wasn't great because of the cold, but I took it in a positive way."
Then, just as he had come up with the angles all evening, sharp and sizzling, Nadal put a tag on his most recent title. "Is one of the Roland Garros (victories) that have a better personal value for myself," he said.
This triumph, won in the head, could free Nadal up in the space between the ears, making him more dangerous than ever. Maybe all matches, especially in finals, are won in that space, but this was fashioned by an alertness and attitude not often seen in sporting fields.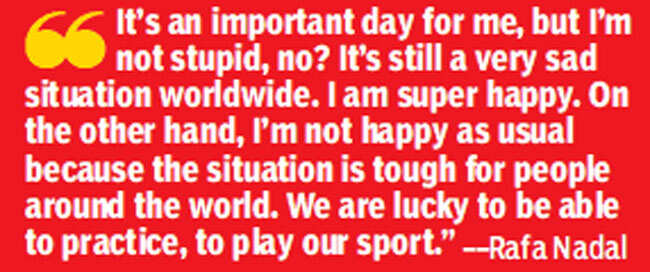 "Doubts are good because it means that you don't consider yourself too good," said the 34-year-old. "I was under doubt before the match, but my level of confidence and tennis have been improving during the tournament."
Nadal's mentality perhaps springs from an equanimity of character. Even in his moment of triumph, he was able to see things clearly — the world, hit by a raging pandemic that has robbed lives and livelihoods.
"Of course, is an important day for me, but I'm not stupid, no? Is still a very sad situation worldwide," he said. "I am super happy. On the other hand, I'm not happy as usual because the situation is tough for people around the world. We are lucky to be able to practice, to play our sport, to have a tour."
One of the most physical players on the ATP Tour, Nadal may also be its deepest thinker.